Series 6246 - Spoilboard Cutters
3-wing Insert router bit for planing and spoilboard surfacing cutter on CNC routers and point to point machines. With upshear for machining composite and solid woods. We highly recommend that the spoilboard cutters are purchased with an HSK Heat Shrink tool holder which provides for best possible finish and tool life. This is also a cost saving factor over time as routine collet replacement is not required and the improved accuracy of a heat shrink chuck will prolong tool life and improve finish.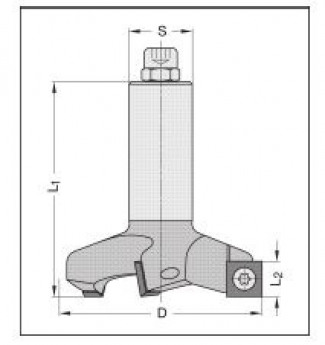 ---
Series 6245 - Surface Planing Cutter
2-wing Insert router bit for planing, grooving, rabbeting and jointing. This cutter is designed with 2 straight cutting edges for peripheral cutting and 2 bottom plunge tips with shear angle. See Application Examples. Large chip removal area for fast chip evacuation when axial plunging. For mechanical feed only. For use on solid wood, panel products and composites.
When axial plunging deeper than 10mm, the rpm should be reduced to 12,000 max!
Product
D
L1
L2
S
Product
Buy Now
6245.350.34
35mm
90mm
30mm
3/4" x 55mm

GDP | GUHDO

6245.350.34

QTY:

Add to Cart (

$

744.00

)
6245.400.34
40mm
90mm
30mm
3/4" x 55mm

GDP | GUHDO

6245.400.34

QTY:

Add to Cart (

$

623.00

)
6245.600.34
60mm
105mm
30mm
3/4" x 55mm

GDP | GUHDO

6245.600.34

QTY:

Add to Cart (

$

862.00

)
6245.800.34
80mm
78mm
12mm
3/4" x 55mm

GDP | GUHDO

6245.800.34

QTY:

Add to Cart (

$

823.00

)
---