Universal Drill Adapter
This Universal CNC Boring Chuck is the optimum solution for drilling with high precision concentricity on a CNC machining center. Tempered jaws provide special protection from wood chips and dust entering into the unit. Variable adjustment of chucking capacity. With extremely high clamping and retention strength.
Balanced for maximum of 20,000 rpm.
Note: Drills and boring bit used in this item must have a minimum clamping length of 20mm. (0.78")
For SK30 HSD Spindles use 6380.200.00
For SK30 Colombo Spindles use 6380.300.00
For HSK 63 F use 6380.700.00 or 6380.800.00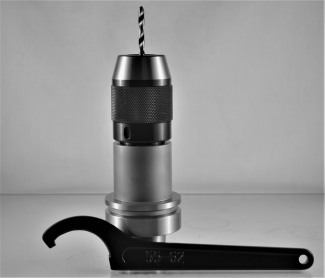 Product
Diameter
Product
Buy Now
6380.700.00
1-13mm

GDP | GUHDO

6380.700.00

QTY:

Add to Cart (

$

972.00

)
6380.800.00
3-16mm

GDP | GUHDO

6380.800.00

QTY:

Add to Cart (

$

1003.00

)
6380.200.00
1-13mm

GDP | GUHDO

6380.200.00

QTY:

Add to Cart (

$

845.00

)
6380.300.00
1-13mm

GDP | GUHDO

6380.300.00

QTY:

Add to Cart (

$

952.00

)
---
---